"This is so easy to use and my car looks brand new!"

- Mark C.

The BodyCompound™ Car Scratch Remover allows you to fix car scratches easily and within seconds. It's a powerful polish that actually buffs blemishes away, without causing harm to your paint. What's left behind is a beautiful and impressive, high-polished finish.
Main Features:
PROFESSIONAL SCRATCH REMOVAL:
Designed to restore original luster and color. Its filler ingredients can quickly fill in decomposition and repair paint scratches. Easily removes the oxide film on the surface, stubborn dirt and paint chip spots.
WIDELY USED:


Works for small and light scratches like door handle scratches, fingernail scratches, paint swirl after polishing, etc. It also can clean asphalt, insect stains, stubborn attachments, etc. It is a highly effective scratch remover at an affordable price.
FRIENDLY TO CAR PAINT:


The Car Scratch Remover does not react chemically with car paint. It's a purely physical process so it repairs the scratches without affecting the original car paint and it does not contain any dyeing agent. It will never leave any other color on your car's original paint, which means zero color difference.
SUITABLE FOR CARS OF ANY COLOR:


The BodyCompound™ works on any color of vehicle, but please make sure there is no plating crystal or paint protection film.
EASY AND QUICK REPAIR:


Just clear the scratch area and remove the dirt, wax, iron rust etc. Squeeze enough cream on to the sponge. Using the sponge, rub the scratch until the scratches disappear. Then wipe the cream wax off. (For specific steps, please check the instructions).

Usage Scenarios

Demonstration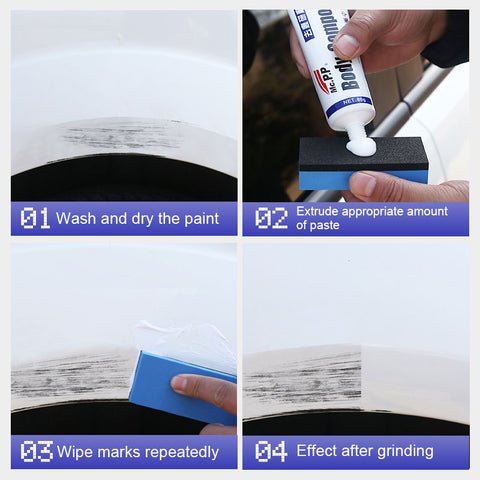 Specifications